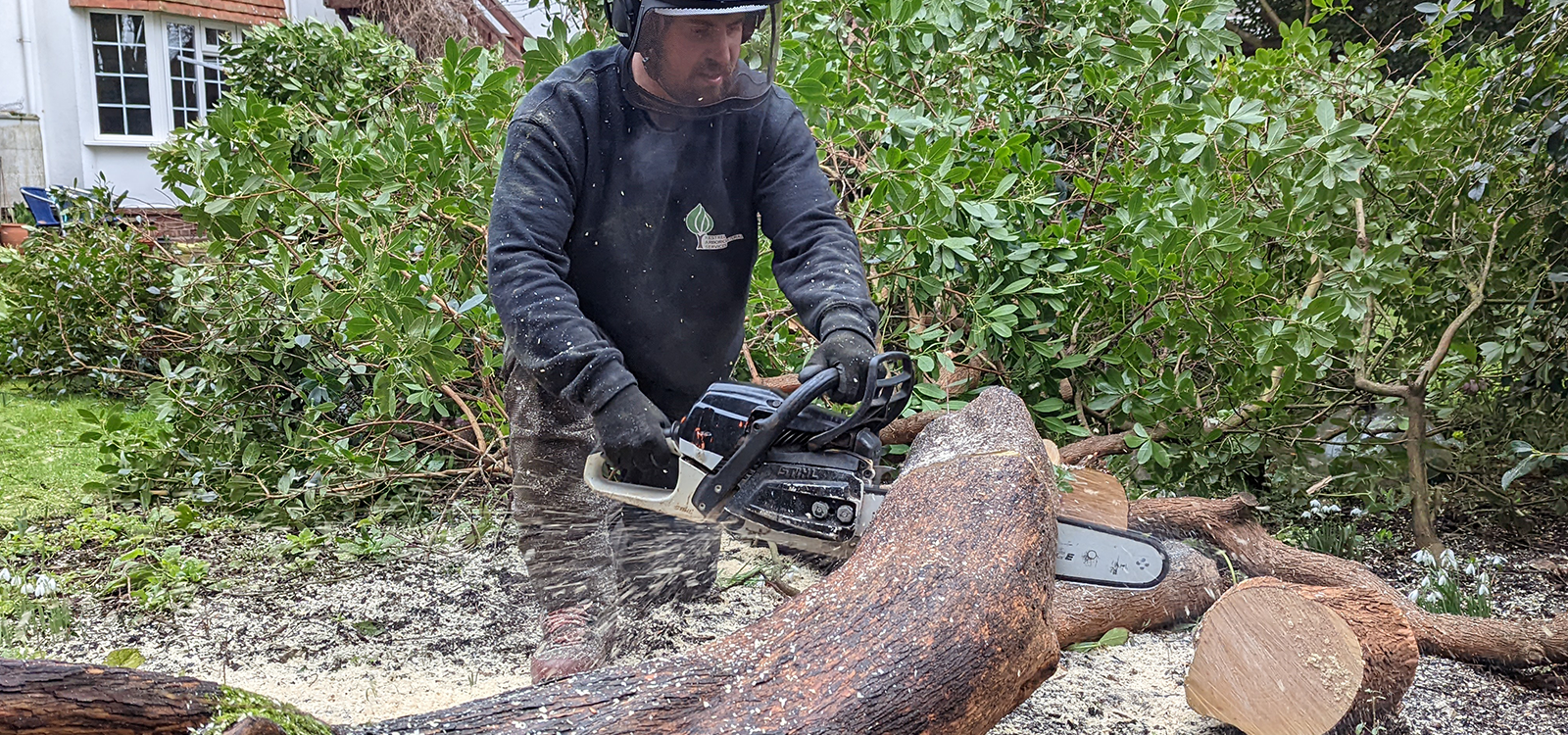 How To Remove A Tree Safely with Kestrel
Professional Tree Felling Services in Norfolk and Suffolk
The process of tree removal is a far cry from what you see in cartoons. If only we could cut a wedge in the base, shout "Timber!" and have it land safely with little planning. Fortunately, the team at Kestrel know exactly what they are doing, with over 15 years of tree felling and removal experience.
Here, we're going to walk you through the essential steps of what to do and what to expect when a professional arboricultural service removes a tree.
First of all, we should stress that you should only attempt to remove a large tree if you have had the necessary training. A mistake could mean serious personal injury, costly damage to property, and serious harm to other surrounding plants and species of the habitat. Our staff are NPTC qualified and have full training in use of all tools and apparatus required.
Step 1 – Survey the area and decide on a safe location to fell the tree
Most trees that require removal by Kestrel are close to buildings, roads, other plants, or something else that doesn't want a tree to land on it. As such, our first step is to decide on the best way to fell the tree, and plan an appropriate space for the limbs and stem to come down without causing damage or disruption.
Step 2 – Dismantle the crown
The next step is to send our qualified climbers up the tree using ropes and pulleys. From here, they will carefully start to dismantle the crown. Large limbs can be controlled and lowered with ropes when there is no clear or viable drop zone. This allows us to have full control of the process and keep everyone in the surrounding areas safe.
Step 3 – Log the stem
With the crown removed, we can now move onto the thickest part of the tree, it's trunk or stem. Our arboricultural specialists will remove this piece by piece. They will continue to remove the rest of the tree in sections until it is small enough to fell, or just take it down to ground level if space is really limited.
Step 4 – Fell the remainder of the tree
If the space allows, the last part of the stem will be brought down in a controlled manner. This allows the remainder of the tree to be cut into more manageable chunks at ground level, making it simpler for removal.
Step 5 – Remove the stump
The stump of the tree can be left as it is or removed, usually depending on what use is planned for the cleared area. To completely remove what is left, we will bring in a stump grinder. This piece of machinery will mulch the remainder below ground level. This not only leaves a flat piece of ground to work with, but also allows the left over wood chippings to act as natural compost and provide nutrients to the surrounding areas.
Need to remove a tree? Call Kestral Arboricultural Services today!
Operating across East Suffolk, East Norfolk, the team at Kestrel are ready to assist with all of your tree felling needs. We'd be happy to quote on any job, whatever the size.
Need something else? Our team also specialises in pollarding, hedge trimming and other domestic services. If you need something on a larger scale, such as woodland management or large site clearance, we also offer commercial tree services. So what are you waiting for? Contact Kestrel Arboricultural Services tree surgeons today for a free, no obligations quote.
We cover all local areas, but particularly focus on Gorleston, Hopton, Fritton and Great Yarmouth in Norfolk. On the other side of the border, in Suffolk, we also cover Beccles, Bungay, Lowestoft and Halesworth. But even if you're not in one of these areas, we will travel to most nearby locations to the east of these counties.
Check out what our customers say about us on our testimonials page. We work to a high standard, and only leave a job site when you are satisfied.